Social Media Marketing Strategy In 4 Easy Steps
Social Media Marketing Strategy In 4 Easy Steps
How Social Media Can Build Your Business
Building an online community around your business can help you retain customers and acquire new ones. It is also a great way to directly connect with your audience and learn what they want to see from your brand. It is vital to create content that engages, educates and excites your audience in order to get their feedback and build loyalty.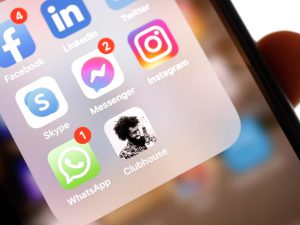 Here are our 4 top tips on how to create a content plan for your social media feed.
1. Keep an eye on what is trending in the digital marketing world
Take advantage of trendy topics to increase brand visibility. Try to create content using up-to-date words and topics, and make sure that your hashtags are trending in real-time in order to gain more followers and attract potential customers. Clickable hashtags can make your page more searchable and lead followers towards branded content on social media.
How do you go about finding trendy topics, keywords, hashtags, etc.? Free tools like Google Trends make it super easy to, as its landing page says, "explore what the world is searching". Simply enter a search term or topic related to your business, and if you'd like, you can filter based on location, and voila, you'll find out just how popular (or unpopular as the case may be!) that search term or topic is.
Upon searching Google Trends also presents you with lists of related topics and queries, a source of inspiration for content creation, keywords, hashtags and more. The free tool even offers a section where you can view trending searches and the most popular searches in previous years.
Try Instagram Stories. Instagram Stories is a new function that shares content for 24 hours only. You can explore and upload things instantly, and it is easier to manage, as you don't need to worry about the layout. It is another way for you to tap into people's passions and inspire them to take action.
According to Instagram, as of January 2019, of the 500 million accounts using Instagram Stories, one-third of the most-viewed stories come from businesses. In fact, one in five stories gets a direct message from its viewers. It can be a big potential way for you to build your social network.
2. Engage in social listening
Social listening is when you "listen" to what is going on online in relation to your brand, industry, and related topics, then analyze what you find to determine your strategy moving forward. It is not to be confused with social media monitoring which is about looking back on your social media data to measure the success of your efforts thus far.
Social listening is a great way to determine possible next actions to help your brand grow further as you learn more about your audience and what your competitors are doing. Want to try? Social listening involves two main steps as follows:
Step 1: Track different social media channels for discussions about your brand, competitors, and general keywords and topics that are related to your business.
Step 2: Evaluate what you find to see if there is any action you and your team can take to improve and grow your brand.
Now, Step 1 might seem like a mammoth and time-consuming task, but it doesn't have to be. Hubspot, Sprout Social, Hootsuite, Buzzsumo, and the like all offer tools that enable you to track different social media platforms in one place, making social listening more manageable.
Another great free tool offered by Google is a free service called Google Alerts which can track and inform you when new publications are made on the web relating to a keyword you specify. You can set alerts to come in  real-time or you can set updates on alerts on various topics to be sent to you as a weekly digest.
3. Interact with your audience to generate leads
Try to build goodwill with your audience; talk to them and learn about them through your interactions. You can potentially use their comments and opinions as inspiration for topics to post about on social media.
Connecting and engaging with your audience is crucial in today's social media marketing domain if you want to turn a profit. Learn about and understand your followers – inside and out.
Open your comments and direct message inbox. Here you have an opportunity to chat with your audience directly. If your audience asks questions, providing them with concise and detailed answers is a sure way to earn their respect. As you give them the information they need, you show your brand to be informative and reliable.
Plus, interacting with them can improve your follower loyalty. Nobody ever said running a social media campaign was easy, but with loyal followers in tow, you are more likely to be successful.
Exchange ideas to improve the way you do business. Interaction is not only about communicating with your audience or building up the relationship but also a way to get ideas from them. Therefore, engage with your audience and ask them for their opinions! Open-ended questions will not only allow for more engagement from your audience but will also help you understand them better.
4. Be consistent to generate leads
How consistently you post should be specific to each social media site you are using. Some social media sites like Twitter and Instagram Stories require you to be active multiple times per day to get the maximum potential from your audience. Other post types, like regular Instagram posts and Facebook updates, don't have as much urgency and can be shared more sparingly.
When determining your posting strategy, look at factors such as how the algorithm works for each platform and whether content posts chronologically or if it is curated based on other factors.
This ties back in with your social media marketing plan. You should outline:
How often do you plan to publish on each social media platform based on best practices for that platform?
What type of content do you plan to post on each platform?
Who is your target audience on each platform?
Remember, your followers are likely following hundreds or even thousands of other people. If you are not publishing new content as often as the other accounts out there, it is easy to get lost and forgotten.
Consistency in how you communicate online can allow people to recognize your voice in the same way you recognize your friend's voice when they say "hello" over the phone. Brand recognition is needed to build a loyal audience and following on social media, so be true to your brand.
You know who you are, what you do, and why it matters to people. Keeping your mission, vision, and values in mind when selecting your voice and the content of your posts can help create the balance and consistency needed to market well on social media.
Check out these social media apps that can help streamline your social media strategy, including visual scheduling, media management, marketing and analytics.
– Later: A great app to plan and schedule your posts, optimize your social content, drive traffic, and grow your business.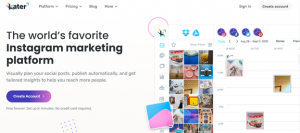 – Canva: Your simple to use online design platform. You can make use of existing or create custom templates and designs using Canva. With more than 420,000 free templates and 100 design types (social media posts, presentations, letters, and more), and more than 75 million premium stock photos, videos, audio ad graphics free-to-use, you can easily create quality posts with even the most limited design knowledge.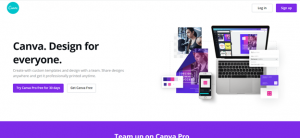 Take action!
At the end of the day, your social media is only as good as you and/or your team makes it. Take action. Implement these tips, and don't forget, though to measure the impact of your social media efforts. Understanding the effect of new and existing strategies is super important to be able to grow a brand.
As you move through your social media journey, keep testing and trying out new and different strategies and see what works or doesn't work for your particular audience. Don't fall into the trap of doing the same thing for months or even years on end; make sure to adjust what you're doing as needed to further develop your brand.
Need help with digital marketing? We can refer you to an expert.
Need help with other company matters?