Our Picks – Top 6 Co-Working Spaces in HK
Our Picks – Top 6 Co-Working Spaces in HK 
Looking for chic and comfortable office space in Hong Kong? Finding it can be an expensive and time-consuming process? Why not consider a co-working space? Getting connected to the Internet and meeting other startups can be accomplished all under the same roof. Fortunately, with the number of co-working spaces in Hong Kong on the rise, there are plenty of choices to choose from! Before you research, why not check out our list of Top 6 Co-Working Spaces in Hong Kong. We hope to assist you entrepreneurs, freelancers, and more established companies in your search for the perfect office space.
Co-Working Spaces covered in this article:
1. WanderLoft
"To offer a dynamic community and creative space for design professionals to thrive in."
If you're a fan of art design, then WanderLoft is the place to stay. WanderLoft is a design-oriented co-working space in Kwun Tong aimed at professionals and creatives working in AEC and interior design. It is intended to create a design ecosystem in which job opportunities and networks can be shared amongst relevant disciplines. With a full-fledged content library, their members range from design studios to project managers, to marketing firms and app companies. Get a free 12 day pass to experience the space yourself.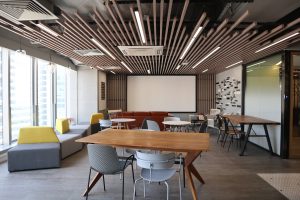 2. Garage Society
"To tailor a better and smarter way for you to get work done."
Interested in finding a flexible workspace where you can accomplish your work more smartly and effectively? You may be interested in Garage Society. They have been empowering their community through people, places, and programming. A unique community-centric approach is backed by Garage Society's innovative mix. In addition to being a shared office, Garage Society is also a place to grow your business and connect with like-minded individuals. It is a place where people get inspired and work together. Sign up for a one-day free pass to see for yourself.
Furthermore, if you want a perfect venue to host your event, book one of their unique spaces today at up to 50% off.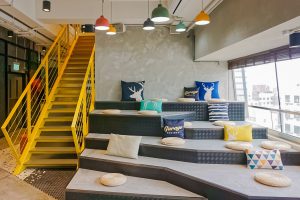 3. Desk-one
"To empower work efficiency and promote ideas exchanges. Time, should be treasured, and be utilised effectively."
Comfortable, Noiseless, Flexible – The first thoughts that come to mind when it comes to Desk-one. They provide stylish and purpose-built workspaces with fantastic views, making them the ideal place for businesses at all stages. A range of services to support your work day-to-day, as well as a café vibe for everyone to enjoy working, studying, and reading in a tranquil environment. They create a truly self-paced collaborative space with multiple well-designed areas, no contract requirement, flexible pricing options and all-round complimentary services. Enjoy their weekday day-pass 50% off your first visit.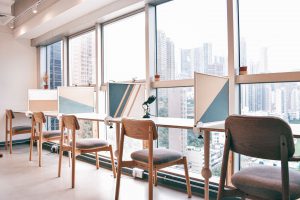 4. The Work Project
"To develop offices that change the way people feel about coming to work, foster a culture of sharing and exchange, and bring the best out of every individual."
The Work Project is designed to be the most comprehensive work environment. Co-working spaces and serviced offices are both designed to deliver hospitality values and standards. They have adopted the same mindset as the hotel sector, ensuring that its members have a positive attitude toward work and feel comfortable when they are there.
The design provides a multi-sensory environment to enhance productivity: from music, scent, refreshments, to technology, furniture, meeting facilities, and amenities, every aspect of the design is carefully curated to improve productivity. Members benefit from access to a wide range of services and benefits that accelerate their growth. Contact The Work Project for your tailor-made membership package.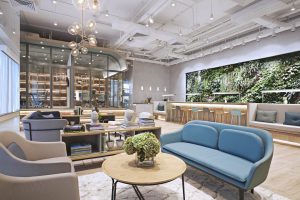 5. Mustard Seed
"To provide members with the right resources, exposure, a broad range of opportunities, and a supportive community at all stages of their growth journey."
Mustard Seed Co-working Space Hong Kong is Emperor Group's first co-working space. The organization provides a space and a community that nurtures entrepreneurs and creatives in the arts and entertainment fields. Their mission is to provide startups with abundant resources, different opportunities and a supportive community, enabling them to grow. Get everything you need at The Next Big Think with Mustard Seed, including access 24 hours a day, meeting rooms, event space, Wi-Fi, and lockers. Take their one-day free pass to experience yourself.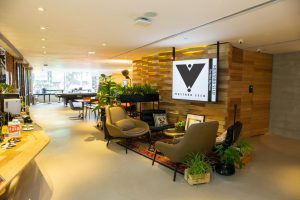 6. Banyan Workspace
"To combine a luxurious design concept with sustainable and ethical practices. Seamlessly integrates the personal comforts of a home office with all the requirements needed for the successful running of a modern business."
By combining eco and ethical-focused initiatives with intentional design, Banyan Workspace aims to see a better planet. Designed with Hong Kong's rich cultural heritage in mind, Quarry Bay's boutique office offers luxury and culture to conscious companies. You can expect all the personal comforts of a home office with all the practicalities needed for a modern business. Aesthetics-wise, there's a mix of comfortable shared desks, private offices and swoon-worthy break-out spaces.
Banyan Workspace doesn't only look good, but functions effectively as well. A percentage of Banyan Workspace's revenue is donated to one of four local non-profit organizations. Additionally, Banyan's commitment to eco and ethical businesses extends to all members: it offers a range of programs designed to enhance social responsibility among companies.
 Benefit from 25% off their day pass and meeting rooms to experience yourself.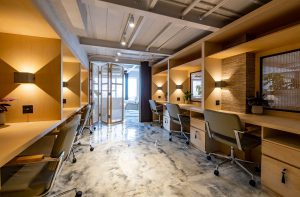 Conclusion:
Our list just touched on a few of the amazingly creative co-working spaces in Hong Kong. Co-working spaces have never been better built than they are now. Whether you're a small startup business or a virtual nomad, you have options. Co-working spaces should include mobility, sustainability, and possibilities for concept exchange and networking, which are crucial for a rising startup. Regardless of where we are employed, co-working could very well become the standard in the immediate future.
What do you think? Should we add other players? We'd like to learn more about your views on the co-working model compared to traditional leasing. Do you think traditional leasing will continue to exist? Let us know!